Think of a time when you had the chance to realize a long-standing dream but the odds were stacked against you: this was the case for Canadian neurologist and astronaut, Roberta Bondar. Her childhood dream to be an astronaut was fulfilled in January 1992, where Bondar and six other members left Earth on NASA's space shuttle Discovery. As we celebrate Canada's 150th anniversary, it's important to recall our country's milestones — and this has deep roots in Canada's presence on the international stage, scientific innovation, and gender representation.
This opportunity for a team of Canadian astronauts arose following the success of the famous Canadarm, which made its debut on November 13, 1981. Bondar was one of the first to answer the public call for prospective astronauts and ended up spending more than a decade preparing for this opportunity—while acutely aware of how much it meant to be a pioneering Canadian astronaut, let alone a woman. Out of the 4000 applicants, six astronauts were selected from the rigorous hiring process in 1983: Marc Garneau, Steve MacLean, Ken Money, Robert Thirsk, Bjarni Tryggvason, and Roberta Bondar.
While Garneau eventually became the first Canadian astronaut in space aboard Challenger in 1984, Bondar's opportunity came eight years later, where she acted as a payload specialist for the Mission STS-42. With a 50-minute delay and hints of the Space Shuttle Challenger disaster that occurred only six years before— where the spacecraft broke apart 73 seconds into its flight— at the back of her mind, Bondar and her team finally found solace when the Discovery found its way into Earth's orbit. Due to her time on the Discovery from January 22-January 30, 1992, Bondar became the second Canadian, the first Canadian woman, first Canadian neurologist, and first right-handed Canadian citizen in space!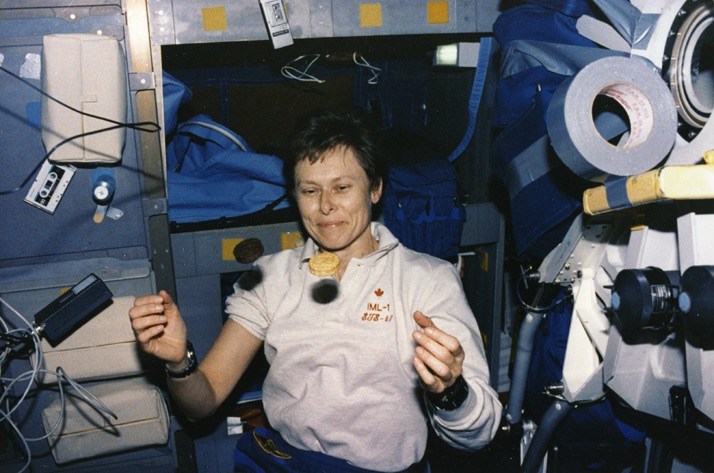 With her background in neurology and research, Bondar proved to be a powerful asset on Mission STS-42, where she conducted experiments for 14 countries in the First International Microgravity Laboratory. The primary focus of these 40 experiments was studying physiological changes under microgravity; this included the effects of gravity on cartilage cell development in rodents, adaptation to weightlessness, spine elongation, and the after-effects of space travel. She would continue this line of work, analyzing the data from 24 other space missions to understand the body's recovery from the exposure to space.
Alongside Bondar's work as head of an international space medicine research team for a decade, her time seeing Earth from space has shaped her other career in photography. As a best-selling author of four books in landscape photography, a regular speaker at schools and in the scientific community, and the founder of The Roberta Bondar Foundation, Roberta Bondar has extended her influence on Canadians past that eight-day window floating in space.
We now know her as the first Canadian woman in space, but what is the legacy that Roberta Bondar has left for Canadians? She is a multifaceted modern renaissance woman: as a neurologist, as an author, as a photographer, as a lover of the outdoors, and as a researcher on the scientific forefront. She is an inspiration in persevering to realize her childhood dream, and most importantly, Bondar is a Canadian pioneer in space exploration and venturing the unknown.
This post explored the years 1992-1997 of Canadian history