Whether it be a calming environment to do homework in when home won't cut it, an inspirational space for your art, or just straight chillin', having a go-to spot for all occasions is a valuable commodity. When it comes to cafes, not everything will cut it. Though we may complain about their high prices, atmosphere is just as important as the quality of the service, and with the below 3 locations that are tried-and-true by yours truly, you get the best of both worlds.
---
Phil & Sebastian on 4th
Probably my favourite on this entire list, Phil & Sebastian is know for their terrific coffee and is, like Starbucks, a major coffee chain that also sells their own beans. However, unlike Starbucks, the atmosphere their shops project is much more alternative and hip (sorry Starbs lovers) and their store on 4th street is the best example of that. With industrial-style windows looking out on the bustling streets full of local businesses, interesting light fixtures, colourful art, and great food, drink, and presentation, it's easy to get carried away when relaxing that this spot!
For more information, visit: https://www.philsebastian.com/mission/
---
Vendome Cafe (Sunnyside)
Introduced to me by the one-and-only form
er editor Ailin during a goodbye-lunch before her departure to Toronto for uni, the amazing food and atmosphere had me hooked right away. Since then, it is my go-to meeting location, and us junior editors even had a meeting there in October. Situated a short distance away from Sunnyside C-Train station, it is nicely secluded from busy Kensington and is housed in a repurposed brick building dating back to the 1900s. The food served there is diverse, with plenty of options for vegetarians and those with other dietary restrictions as well. It is well-portioned and you definitely get the most band out of your buck, making it a perfect place to stop by for lunch. They also offer plenty of delicious desserts; I don't think I've ever had anything there that I didn't enjoy, and that's saying something for how often I go. The store itself is incredibly atmospheric, and features larger-than-life portraits of locals such as Ania Boniecka of http://aniab.net/, as well as antique mirrors with modern, Scandinavian-style decor.
PROTIP: avoid 2-5pm if you want to bring a group! Seating can be hard to come by at this bustling location.
Visit http://www.vendomecafe.com/ for more information
---
Higher Ground Cafe (Kensington)
Another cafe in the Kensington a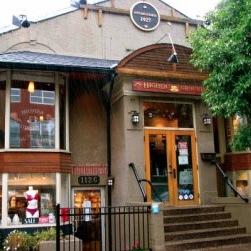 rea, but this time right at the heart of it and with a distinctly different flavour than Vendome. This cafe is another re-purposed space, in this case, a quaint house, and projects a homey American atmosphere rather than an European one. Packed with books that everyone is free to read, a fireplace, and rustic-feeling decor, things I associate with it include flannels, wool socks, top knots, and a hot cup of tea, or whatever drink off of their extensive menu. The space is also quite spacious, allowing for groups to visit together. Walking in, the abundance of people on their laptops doing work on the bar counter and many tables gives off an early 2000's internet cafe vibe. In fact, Higher Ground is extremely computer friendly!
Check out more about this location here: http://www.highergroundcafe.ca/
---
Featured Image Source: (x)